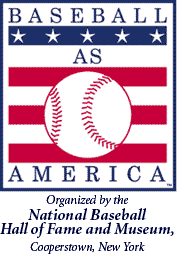 If you're a baseball fan, you'll love these priceless treasures. And if you're not, you will still be surprised to discover just how far-reaching America's bond with baseball truly is.
Baseball As America explores the many ways that our national pastime continues to mirror and influence the development of our culture, our language and our psyche as a nation. For nearly 150 years the game of baseball has spawned legends and spurred patriotism. It has reflected our country's strengths and poignantly shown our shortcomings. Even our language is rife with baseball phrases such as "in the ballpark" when estimating cost, or "covering our bases" when attempting to be all-inclusive in solving a problem. Many of these phrases and icons are so familiar to us that we don't even think about their origins.
The exhibition is truly a fan's dream come true. More than 500 treasures from The National Baseball Hall of Fame and Museum have left their home in Cooperstown, New York (the legendary "home" of baseball) for the first time. Among the many items on display are baseball "firsts" such as the first ball pitched by Cy Young in the first-ever World Series; historic photographs and artifacts from Jackie Robinson, Joe Dimaggio and a host of other heros; baseball and collectibles of all kinds; and interactive displays where you can heft a bat and learn how to throw a curve ball.
Many of these artifacts show baseball as a microcosm for changing attitudes about equality and opportunity. For instance, you'll see items from the Negro Leagues and All American Girls Professional Baseball League, along with rememberances of players who broke social and racial barriers.
Even right here in St. Petersburg, baseball's influence has been extensive, and often key, in our development from a sleepy retirement community to a dynamic and vibrant cultural showplace on Florida's west coast. Spring training camps date back to 1914 and featured legendary stars such as Babe Ruth and Joe Dimaggio. Today's Tampa Bay Devil Rays play under "The Trop" giving the Sunshine City its own hometown advantage.
So step up to the plate and discover baseball in a whole new light.
Click here for highlights of the exhibition.
Nationally sponsored by

Baseball As America is open through March 6th 2004.