Midtown Through Our Eyes
August 01 to September 12, 2004
Over eight days this summer with notebooks and cameras in hand, 30 earnest student journalists from Melrose Elementary and John Hopkins Middle School explored the Midtown area of St. Petersburg.
They scribbled notes and took photographs during 24 field trips, exploring the Manhattan Casino by flashlight, uncovering history at the Greenwood Cemetery and experiencing the rebirth of a community at places like the Johnnie Ruth Clarke Health Center, Jordan Park and Lorene's Fish House.
The result is a 100-photo exhibit, Midtown Through Our Eyes, and a 24-page publication, Midtown Magazine. The photo exhibit will be on display Aug. 1-Sept. 12 at the Florida International Museum, 100 Second Street N, St. Petersburg. The magazine will debut at a special VIP reception from 5 to 7 p.m. Friday, Aug. 13, at the museum.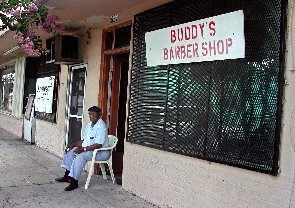 The first-ever summer journalism camp was funded by the American Society of Newspaper Editors and the Pinellas County School Board. The camp is an outgrowth of a 2-year-old journalism program at Melrose Elementary that brings every student at the school to a journalism class once a week. The students produce a newspaper, the Manatee Messenger, three times a year. This year, the Manatee Messenger was named the best elementary school newspaper in the nation by Time for Kids/Time magazine.

Melrose partnered with John Hopkins, where the journalism program will debut this fall with every student in the literary arts strand exploring journalism and producing a newspaper, J-Hop Times.

All the students who participated in the summer camp go to school in the Midtown area. Many of them live there. But none of them have ever experienced Midtown in quite the same way. Besides the field trips, the students interviewed long-time residents who gave them a sense of the area's history. They also questioned public officials, business people and community activists who arrived at the camp each day for morning press conferences.

Students used words like "radical,'' "awesome,'' "tiring!'' "totally awesome,'' and "off the chain'' to describe their journalistic journey.


As one student journalist, Latifah Eggleton, put it: "This camp was like a journey to a new world that I've never been before.''
They also learned some real-life lessons. Joseph Horning, a summer camp photojournalist and Hopkins student, said he learned that "Midtown is actually really nice because some people say it's really bad. But there are a lot of nice places and people.''

Ashley Alonzo, a summer camp reporter and Melrose student, said, "It was hard work, but it paid off.''
The student journalists, teachers and VIPS will be available during the Aug. 13 reception for interviews. If you have any questions, you can contact Cynda Mort, journalism coordinator, at Melrose Elementary, 893-2175, ext. 3040, or Kathleen Tobin, journalism coordinator, at John Hopkins Middle School, 893-2400.